Guests staying this winter (2017/18) at the Blue Cottage have enjoyed spectacularly frosty mornings when mist hangs over the icy expanse of Loch Awe and the temperature dips to -8 or less. It's a magical time of year to get out and explore this part of Argyll, with so many brilliant walks and places to visit; and it's off-season, so you'll mostly have the place to yourselves. Here are 5 great things to do on a winter's stay at the Blue Cottage:
Snuggle-up on the velvet sofa in the lounge, pop some logs on the wood-burning stove, pour a warming whisky and unwind in splendid seclusion with a stunning view towards Loch Awe and onwards to the snow-tipped peaks of Ben Cruachan. Perhaps read one or two of the many carefully chosen books you'll find throughout the cottage or watch a Scandi-noir DVD (there's plenty of these on the cottage shelves too). Honestly, we can't think of anything better to soothe the soul and detox from the hustle bustle of life. Of course, a Christmas stay at the Blue Cottage makes things extra special.
Explore ancient ruins on the Loch's many islands. If the Loch is calm, then head down to the nearby Loch Awe Boats, hire one of the very reasonably priced outboard-powered boats and head off to explore one of the Loch's many islands, such as Inishail, known as the 'Green Isle', where you'll find ancient burial tombs of Clan MacArthur, standing stones and the ruins of the mid-13th Century Chapel of Fyndoca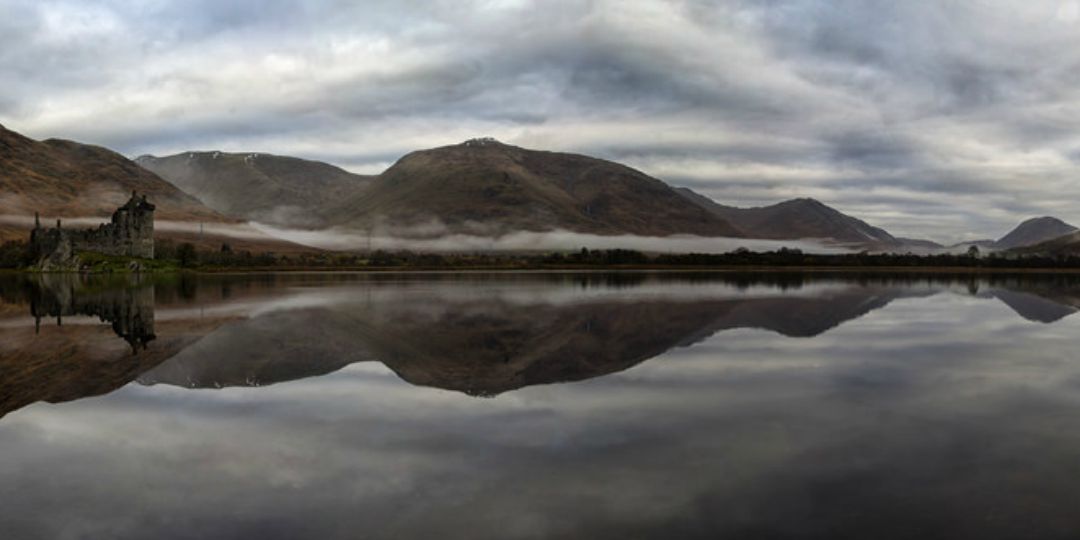 Hit the slopes: Whether you're a skier, snowboarder, all-weather climber or if you just fancy getting onto the snowy peaks of Glencoe's Meall A'Bhuiridh Massif, head up to Glencoe Mountain Centre, a stunning 40 minute drive from the Blue Cottage.
Walk amongst ancient oakwoods and tall conifers at the Forestry Commission's marked pathway, Barnaline Oakwoods and Avich Falls, near Dalavich on the Westerly side of Loch Awe. This is an easy, yet incredibly rewarding walk that follows drovers paths hundreds of years old, passes ruined crofts and affords the opportunity to see wildlife such as red squirrels, pine marten, woodpeckers and red deer amidst the beautiful woodlands. Plan your walk at Walk Highlands.